2017 Dixie Zone Short Course Championships - THANK YOU Volunteers
Give yourself a great big pat on the back for having another super successful Dixie Zone/NC State SCY Championship meet hosted in the books.

I'd like to give a huge shout out to Mark Rubacky for undertaking the daunting task of serving as Meet Director. It is an extremely time consuming undertaking and he did an awesome job. It involves months of planning and behind the scenes work to make these two short days come to fruition. Way to go Mark.

Thanks goes to the following people:

Susan Massengale for manning and running the Registration Table. Susan was the first person people encountered as they hit the pool deck and her bright cheerful smile set the tone for the meet.

Sue Haugh for serving as Head Timer for all three sessions of the meet. Sue was often found running up to three watches, some for back up and/or timing a lane all by herself.

Nancy Whelchel for when she was not swimming 10 events with many personal bests and racking up a high point award in her age group for coordinating all the timing volunteers, hospitality donations and ordering a magnificent lunch for volunteers.

RAM Board Members Amy Oggel, Amy Oversmith, Ruth Jones, David Rossbach, Nicole Silvernail, and KC Pelczynski who could be found while not swimming either timing, helping Mark with administrative tasks, or manning the hospitality area.

Ceil Blackwell, fresh off of hip replacement surgery, who toughed it out and served as a timer for all three sessions of the meet.

Also thanks to all the other RAM swimmers who volunteered their time at the meet serving as timers.

I'd also like to give special recognition to RAM Swimmer Erika Braun for her outstanding showing in the pool. Erika set 3 new USMS National Records in the 45-49 age group at this meet in the 50 free, 50 fly and the 100 free. Erika's time of 51.99 in the 100 free was the 1st woman ever to go under 52.00 in the 100 free in the 45-49 age group. Great swims Erika.

As you see these people at practice, take a minute and thank them for their leadership of the team and making RAM the best masters team in North Carolina.

Thanks,

Steve Weatherman
RAM President
Hill Carrow Inducted Into National Hall of Fame
Hill Carrow, CEO of the Triangle Sports Commission, was inducted today into the inaugural class of the National Association of Sports Commissions (NASC) Sports Tourism Hall of Fame. Hill is an active Masters Swimmer and serves on the USMS Board of Directors Compensation & Benefits Committee. Hill founded the Raleigh Area Masters Swim Team and has long promoted Masters Swimming in North Carolina and far beyond. He served as Chairman in the early days of the NCLMSC, has directed four USMS National Championships, and serves as director of the annual USMS High Performance Camp in Greensboro. Hill also heads up the USA Masters Games which will be held in July of this year in San Diego.

Collins Lowder
Sports Manager
Steve Weatherman - Your RAM Coach has received the 2016 Dorothy Donnelly Service Award for his numerous contributions to U.S. Masters Swimming.


"USMS recognizes the commitment of those who give back with the Dorothy Donnelly Service Award, named to honor one of USMS's outstanding volunteers." - USMS
"Steve's service extends to the national swimming community... having served as meet co-director for the USMS 2016 Spring National Championship and the Competition Director of the USA Masters Games this summer. ... he becomes the first North Carolina coach selected to the staff at the USMS High Performance Camp." - USMS
NC Swimmers Break Womens 200 Freestyle Relay World Record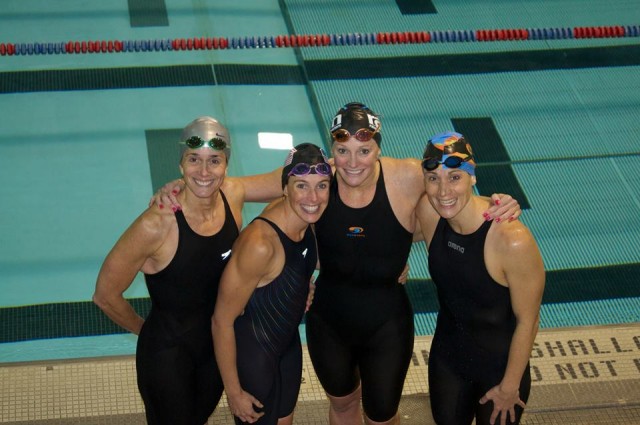 The relay team pictured above of Sue Walsh, Jennifer Stringer, Alicia Uhl, and Erika Braun beat the previous FINA Masters world record of 1:49.41 by almost 1.5 seconds with a 1:48.08.
Click here to see an article in SwimSwam.com about their accomplishment.